JOHN RATCHFORD
Screen Australia Intern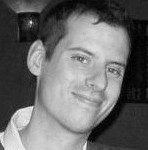 John is a recent graduate of the Australian Film Television and Radio School (AFTRS). He finished in the top 4 of televised film-making contest 'Project Greenlight Australia' and, as a screenwriter, has a teen comedy script in development with Paramount Pictures Australia. There's posh.
A dual Australian/British citizen, John has been sponsored by Screen Australia to learn about the UK film and television industry under the august auspices of the Island Pictures team.*
John's future is golden – we're being nice to him now, while we have the chance.
* is there a name for playing on words beginning with -au? There aught to be.